Olive 8 "Spring Event"
Olive 8, a downtown Seattle condominium, has just launched a spring sales event offering some pretty good incentives for buyers:
No closing costs
No HOA dues or club fees for the first year
Interest rates from 1.5% for qualified buyers from Metlife Home Loans
One bedroom homes at Olive 8 start from $395,000 with two-bedrooms homes from $825,000. The spring sales event runs through May 31, 2011. View available Olive 8 condos listed for sale.
Trace North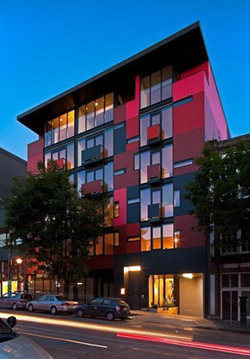 Located in the Pike/Pine district of Capitol Hill, the Trace North development sold another two homes since our last update, leaving only 8 units available – a mix of open one-bedroom, one-bedroom and two-bedroom homes. View available Trace North units listed for sale.
Open one-bedrooms start from $254,950
One-bedrooms start from $354,950
Two-bedrooms start from $399,950
Eleven Eleven East Pike (1111 E Pike)
A few weeks ago someone asked me if I knew of any lease-to-own programs at new construction condo buildings. Other than Enso's program for Vulcan's current renters I hadn't heard of any. Well, it seems that Eleven Eleven has a lease-to-own program and they already have three homes optioned under that program.
Eleven Eleven is located in Capitol Hill's Pike/Pine district, around the corner from Trace North, with homes starting from $229,950. View available Eleven Eleven homes listed for sale.
1521 Second
Since our last update, 1521 Second had two additional condo sales and two closings. Presently, the luxury downtown Seattle condo tower is 77% sold. The upscale building has sold more $1+ million homes than all other new construction condo building since 2007. View available 1521 Second homes listed for sale.
Decatur Condo
First Hill's Decatur Condominium is over 85% sold with one-bedroom homes starting from $187,950 and two-bedrooms from $264,950. Buyer incentives includes no closing costs and interest rates from 3.375% through the preferred on-site lender. The building is FHA approved that offers a low 3.5% down payment option for buyers. View available Decatur units listed for sale.
1350 Alki
This boutique waterfront building along Alki, sold another in the past two weeks and is down to its final unit for sale, a three-bedroom home presently offered at $559,950. View unit for sale.
Disclaimer: With exception of 1350 Alki, condos mentioned were advertisers at time of publication.