This week's condo digest includes another huge reduction at 744 Harvard, Marselle Condo's sales and its 1521-esque homeowner testimonials, Hjarta's relaunch and Matrix's annual real estate survey.
First, if you didn't catch it here, the 200 West Highland Condominium is coming back on the market, with a public relaunch event starting at 5 PM on Tuesday, November 16th. The Kendra Todd Group is now handling sales and marketing at the upscale project.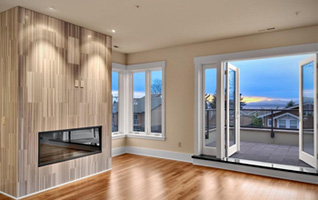 The Kendra Todd Group also took over the boutique 744 Harvard Condo project located in Capitol Hill's renowned Harvard-Belmont neighborhood. Prices on the two remaining homes have been reduced up to $150,000. Unit #200 is now priced at $799,000 while the penthouse (#300) is available at $825,000. Both homes have been reduced approximately 57% since they first came on the market in 2008/2009.
The 132-unit Marselle Condominium development reports they are now 60% sold. They've recently started a new homeowner testimonial campaign on Facebook and Twitter, following in the footsteps of 1521 Second's elegant promotion.
Ballard's Hjarta Condominium hosted a broker's open event on Wednesday drawing over 65 real estate brokers to celebrate its relaunch with Matrix Real Estate. Hjarta's current prices reflect significant reductions.

Speaking of Matrix, they just released the results from their annual market survey. A few highlights from the 2010 survey include: 82% of respondents felt now is a good time to buy, though only 48% said they were considering buying within the next 24 months and 63% prefer to live in a denser close-in neighborhood with the ability to walk to amenities, but the majority preferred a single family house.
Interestingly, 49.9% of respondents felt prices will remain stable or improve in 2011, with only 23.4% believing prices will go down next year. Read the rest of the survey here.