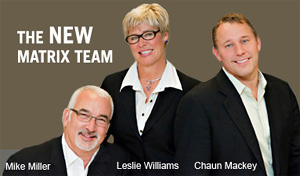 Today, Seattle-based residential real estate marketing and sales firms MCM Group and Williams Marketing, Inc announced the joint creation of a new company, Matrix Real Estate. With the most experienced professional sales staff in the region and listings valued at more than $300 million, Matrix will become the largest real estate firm dedicated to condominium and townhome sales and marketing in Washington.
The Matrix team will be spearheaded by partners Leslie Williams, founder of Williams Marketing, Inc, and Mike Miller and Chaun Mackey, co-founders of MCM Group. Mackey will also serve as the president of Matrix and will oversee the day-to-day operations of the company. MCM Group and Williams Marketing, Inc will merge both companies' talent, resources and employees into Matrix.
"This exciting collaboration means we will be able to provide our clients with the combined strength, broad knowledge and long-term experience necessary to excel in the current market and be well-positioned to capitalize on future opportunities," Williams said. "We see Matrix Real Estate as a pace setter in this new chapter of the Seattle real estate market."
Since 2005, Williams Marketing, Inc and MCM Group have each closed more than $1 billion in sales. Williams and Miller continue to provide developer and lender clients with unparalleled experience—offering services from site selection and product design consultation through construction, strategic pricing and marketing strategies. As Matrix, the firm will specialize in sales and marketing for condominiums, townhomes and high-rise communities in urban and suburban locations throughout the greater Puget Sound region and beyond.
In addition, the company will offer a rare combination of consumer-targeted capabilities with services for private resale clients and buyers as well as sellers of new construction and conversion condominium properties and townhome communities—a mix unique to the Seattle market. This consumer-focused approach will position Matrix as a one-stop-shop for homebuyers and sellers—whether they are looking to buy or sell an individual property or addressing the strategic marketing and sales needs of a larger project or community.
"This new relationship may come as a surprise to some because as staunch competitors for more than a decade, we were also each other's most admired competitors; Williams Marketing, Inc and MCM Group have each had a formidable presence in the marketplace," Miller said. "But as Matrix, we can now offer our sellers the strength of our collaborative partnership. When a seller hires Matrix, they'll have me, Leslie, Chaun along with an entire team of seasoned professionals working collaboratively on the sales and marketing strategy."
As leaders in the condominium and townhome sales and marketing industry, Matrix will represent some of the largest sellers and projects in the region including Vulcan Real Estate's Enso and Veer Lofts communities in South Lake Union and Pryde + Johnson's Hjarta project in Ballard, as well as its Florera project in Green Lake.
"The combination of MCM Group and Williams Marketing, Inc will give an unprecedented market share to Matrix," said local real estate economist Matthew Gardner, principal at Gardner Economics, LLC. "No other real estate company in the Puget Sound region has the breadth of experience that Matrix will be able to offer to its clients."
Suzie Langford, will be the vice president and broker of Matrix Real Estate while Kim Sharpe Jones will serve as vice president of marketing and Sera Venis will serve as the controller. For more information about Matrix, visit www.matrixrealestate.com.