Want to check out over 40 condo units in 18 Belltown condo buildings? Then come on out on Sunday, August 29th for the Belltown Condo Open House Tour between 1 pm & 4 pm (times may vary).
This is a great, low-stress way to view and compare numerous condo units that are within blocks of each other. The properties on tour include studio, one-bedroom and two-bedroom homes that are offered from $225,000 to over $1 million, so there's something for everyone who is looking to live urban.
Click image to download a pdf version of the map: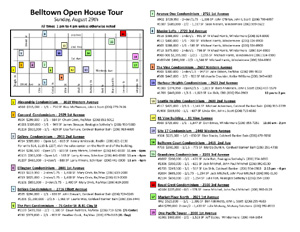 Where available, click on the unit # for more info.
81 Vine:
#300: $725,000, 1-bd / 1-ba, 1,847 SF
Alexandria:
#310: $315,000, 1-bd / 1-ba, 750 SF
Arbor Place:
#2207: $429,900, 1-bd / 1-ba, 855 SF
Avenue One:
#902: $729,950, 2-bd + den / 1.75 ba, 1,338 SF
#1007: $689,000, 2-bd / 2-ba, 1,117 SF
The Bellora:
#505: $294,000, 1-bd / 1-ba, 636 SF
#1201: $1,200,000, 2-bd / 2-ba, 1,961 SF
Belltown Court:
#733: $350,000, 1-bd / 1.5-ba, 773 SF
Concord:
#304: $299,000, 1-bd / 1-ba, 584 SF
#1001: $509,000, 1-bd / 1-ba, 949 SF
#1216: $310,000, 1-bd / 1-ba, 629 SF
Ellington:
#319: $619,950, 2-bd + den / 1.75 ba, 1,400 SF
#719: $825,000, 2-bd + den / 1.75 ba, 1,400 SF
#1101: $850,000, 2-bd + den / 1.75 ba, 1,400 SF
Gallery:
#514: $286,500, Open 1-bd / 1-ba, 603 SF
#714: $309,000, Open 1-bd / 1-ba, 603 SF
#1115: $363,000, Open 1-bd / 1-ba, 583 SF
#1207: $460,000, 1-bd + den / 1-ba, 883 SF
Grandview:
#1007: $260,000, studio / 1-ba, 470 SF
#1306: $350,000, 1-bd / 1-ba, 611 SF
#1705: $249,500, 1-bd / 1-ba, 557 SF
#2004: $695,000, 2-bd / 1.75 ba, 1,254 SF
#2104: $650,000, 2-bd / 2-ba, 1,254 SF
Harbour Heights:
#1003: $374,950, Open 2-bd / 1.5 ba, 1,023 SF
#1703: $449,000, 1-bd / 1.5 ba, 1,023 SF
Market Place North:
#A2: $525,000, 1-bd / 1-ba, 1,306 SF
#B4: $799,000, 2-bd + den / 2-ba, 1,420 SF
Mosler Lofts:
#316: $388,000, 1-bd + den / 1-ba, 991 SF
#513: $400,000, 1-bd / 1-ba, 703 SF
#603: $288,000, 1-bd / 1-ba, 585 SF
#713: $375,000, 1-bd + den / 786 SF
#900-901: $1,395,000, 2-bd / 2.5-ba, 2,055 SF
#1007-08: $898,000, 2-bd / 2-ba, 1,546 SF
One Pacific Tower:
#1901: $900,000, 2-bd / 2-ba, 1,523 SF
The Parc:
#530: $379,000, 2-bd / 1-ba, 903 SF
#1109: $499,950, 2-bd / 2-ba, 1,100 SF
Royal Crest:
#2104: $225,000, studio / 1-ba, 578 SF
Seattle Heights:
#517: $425,000, 2-bd / 1.5 ba, 1,141 SF
#1908: $339,950, 1-bd / 1 ba, 637 SF
Site 17:
#504: $225,000, 1-bd / 1-ba, 650 SF
The Vine:
#303: $300,000, 1-bd + den / 1.5 ba, 947 SF
#508: $447,000, 2-bd / 2-ba, 922 SF