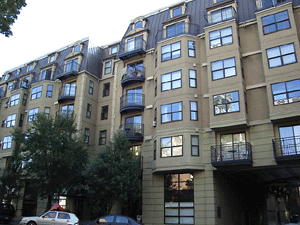 There's been quite a bit of hype recently about Moda Condominiums, particularly around their 300 square foot studios and $150,000 price tag. It's most likely newsworthy as it stands apart from endless new luxury condo projects underway. However, small affordable Belltown condos isn't a new concept. In fact, one project has been quite successful, located in the northern edge of Belltown.
Completed in 1999, the 7-story French-inspired Montreux is located at 425 Vine Street (Vine & 5th Avenue). Montreux offers a mix of 136 studio and one bedroom units that range from 306 to just under 500 square feet as well as a handful of 600+ square feet two bedroom units. Because of its design and location adjacent to apartment buildings, most of the unit views are of other units, the courtyard, an alley and the monorail tracks. However, it is in a quieter part of Belltown.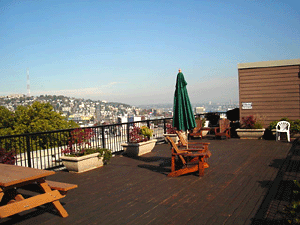 Montreux's building amenties include a on-site manager, business center, fitness room and a large roof-top deck with 360-degree views of the downtown skyline, Lake Union, the Space Needle, Queen Anne, the sound and Olympic Mountains. There is a secured lobby and garage though not all units have a deeded space. Additionally, the units are unlikely to have the glitz and glamour of stainless steel appliances, granite or stone slab countertops or hardwoods.
Montreux offers easy access to I-5 via Denny Way, is on major public transportation routes and is a short walk from the Space Needle and Seattle Center. Residents also enjoy many quaint businesses within a few blocks including Uptown Espresso, Boulangerie Nantaise (french bakery), Golden Singha (thai), the 5 Point Cafe, Zeek's Pizza, Two Bells, a grocery story, post office and a soon-to-open Taco Del Mar and a new pizzeria.