In 2009, the annualized citywide Seattle median condo price fell 10% from 2008 to $279,000. That's a hefty decrease considering the citywide median value only dropped 0.9% between 2007 and 2008. Besides the overall economic conditions, other related factors contributing to declining values include the first-time home buyers tax credit, condo auctions and the proliferation of short sales and bank owned property sales.
Does this mean the average Seattle condo was worth 10% less in 2009 than in 2008? The simply answer is "no". First, values vary widely by location. Each neighborhood has its own distinct market condition, and several neighborhoods realized increased values last year. Second, the median price can be affected by non-market factors.
Median is the mid-point of a set of numbers, in this case, the point where half of the properties sold were priced above and half below. During the second half of 2009 upwards of 65% of condo sales were priced under $300,000 as a result of the first time home buyers tax credit incentive. That's a flip from 2008 sales figures. The increased number of entry-level sales last year also contributed in shifting the mid-point downward.
Most areas of the city experienced declining values, though six neighborhoods saw condo values increase – Admiral/Junction, Belltown, Greenwood/Phinney, Leschi, Magnolia and U-District. Of those, the Admiral/Junction and Leschi areas realized consecutive annual value appreciation.
There are some numbers that stand out in the table below, particularly Alki and Fauntleroy. In respects to Alki, I would attribute sales at Lighthouse Point to be a factor in the drop in median price. Approximately half of the 59 sales in 2009 were at Lighthouse Point where prices were predominately below $200,000, shifting the median point downwards. A primary factor I noticed with Fauntleroy was the different type/quality of condos sold in 2008 vs. 2009, besides having a small sample size.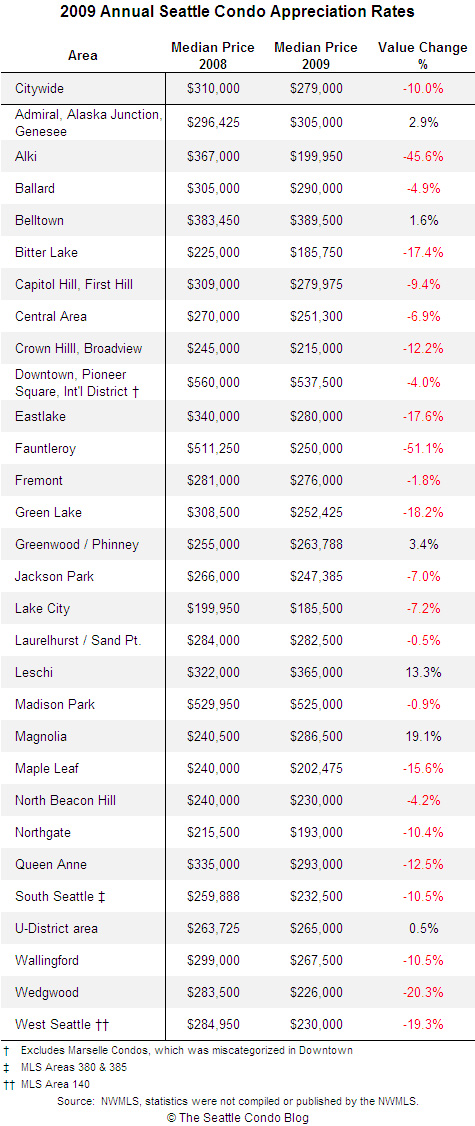 Other Notes:
I adjusted the median price for Downtown by excluding sales at Marselle Condominium. The Marselle listings/sales were categorized in downtown when, technically, it's located in lower Queen Anne (a different MLS area, also).
In light of the above, it should be noted the NWMLS database is not 100% accurate. It does not include properties sold at auction, private sales (by owner) or many pre-sale units. Additionally, listing agents may misclassify their listings, which can corrupt the data considerably. Without the Marselle correction, Downtown's median price would have been $459,950 instead of $537,500.
Astute readers will note that the 2008 figures above may differ slightly from those I posted last year. This year I calculated median price utilizing the NWMLS method that resulted in adjustments for some of the neighborhood figures.