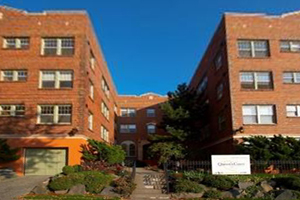 It seems like ancient history now. Back in the condo heyday that was 2006, Pioneer Properties undertook the renovation and conversion of the stately brick Queen's Court building in lower Queen Anne. Pioneer Properties, which later morphed into Live Historic, was committed to preserving and rehabilitating Seattle's vintage properties.
Originally constructed in 1930, the rejuvenated Queen's Court was unveiled in early 2007. Though, it wasn't alone as a number other developers rushed to bring new conversion projects to market. With its premium pricing, combined with stiff competition and the subsequent market collapse, Live Historic eventually found itself in financial turmoil.
Fast forward to 2009, under a new owner Queen's Court received additional upgrades, its HOA budget fully funded and prices slashed. It also obtained FHA and VA financing approval. Led by the sales team at Developer Services Group, Queen's Court has further restructured its pricing in order to be competitive in today's market place.
Homes at Queen's Court are now being offered from just $159,000 for studios and tops out at $210,000 for a one-bedroom. The homes retain its '30's architectural charm yet feature modern updates and conveniences including new cabinetry, fixtures, stainless appliances, granite countertops and in-unit washer/dryer combos.
Seventeen of the 34 homes are available, though pricing has only been publicly released for the units shown below.
| | | |
| --- | --- | --- |
| Unit A | $159,000 | Studio – 430 sf |
| Unit #101 | $205,000 | 1-bdrm – 617 sf |
| Unit #102 | $199,500 | Studio – 571 sf |
| Unit #104 | $195,000 | 1-bdrm – 546 sf |
| Unit #107 | $199,000 | Studio – 564 sf |
| Unit #110 | $169,000 | Studio – 524 sf |
So after its 3rd price cut in 6 months how does it stack up? For comparison, units #104 and #110 are now being offered at 29% and 38.5% below their 2007 prices, respectively. However, even at this pricing level, there's still competition from other, newer properties in Belltown and Queen Anne. What'll set Queen's Court apart is its quieter location and 1930's character.
The building doesn't offer much in the way of amenities, but it does have a newly remodeled lobby, a library and green space. On the other hand, the limited amenities allow Queen's Court to keep its homeowner dues fairly low.
Parking is available on a first-come, first-served basis. At this time there are only two spaces left, which I believe are available for $35,000 a piece. Fortunately, there are ample leasing options including the Bernard Apartment across the street for $125/mo as well as the nearby Seattle Center garage.
Queen's Court is open weekends from 11:00 am to 3:00 pm.
Click thumbnails to view larger image:
[flickrset id="72157623166688015″ thumbnail="square" overlay="true" size="medium"]