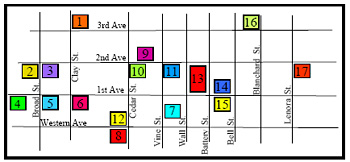 Are you interested in condo living but hate the hassle of searching for open houses or scheduling tours with your agent?
Well, here's your chance to tour over 40 condos units during a progressive Belltown Condo Open House event on Sunday, January 31st. The event runs from 1:00 pm to 4:00 pm.
These are individually owned resale units, representing condominiums throughout Belltown, not some big condo developer promotion. Come tour Studios, One-bedroom and Two-bedroom homes at your leisure. Just download a copy of the map and you're on your way.
The tour features units at 17 Belltown condominiums including The Parc, Mosler Lofts, Cristalla, Austin Bell, Seattle Heights, Belltown Court, Avenue One, Arbor Place, The Vine, Royal Crest, The Ellington, The Concord and others!
Click image to download and print (PDF):