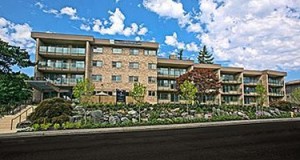 The Continental Condominium (website) is a "new" mid-century modern mid-rise development in Bellevue located conveniently to Bellevue Square and the Downtown Park. Originally constructed in 1959 the 4-story building has been substantially renovated and restored.
Continental is celebrating its completion with a Grand Opening this Saturday, August 8th, from 11:00 AM to 6:00 PM at 511 100th Avenue NE in Bellevue.
"Before Continental, the only option for condominium-living in downtown Bellevue was in a high-rise environment," said Continental Condominiums owner and developer Jim Cronkhite. "Our buyer is looking for something different — they want a cozy, more-intimate living experience, but still have access to all the exciting amenities of a downtown core."
At Continental Condominiums, style meets the convenience of location, creating a one-of-a-kind "boutique"-living experience. Homes feature open floor plans, quality appliances and fixtures. All Continental Condominiums homes are finished with a natural palette of granite, marble and hardwood accented with hand-blown glass pendants.
Homes start in the low $300,000s with three-quarters of the units listed under $500,000, making downtown Bellevue affordable for first-time homebuyers.
The Continental's sales office is open daily: Monday to Friday between 12pm – 6pm and on the weekends from 11am to 6pm.
Click thumbnail for larger image:
[flickrset id="72157621964233424″ thumbnail="square" overlay="true" size="medium"]