Second Quarter 2009:
The second quarter 2009 market stats exhibited the sluggishness of Seattle's condo marketplace. The median citywide condo price declined 12.5% from the same period last year to $280,000 while the number of units sold decreased 27.7%. Compared to first quarter 2009, the median price slipped 2.6% though the number of units sold increased 47.1%, partly due to seasonal changes as well as first-time buyer incentives. The best performing market area was Downtown / Belltown which realized the smallest median price decline of 3.3%. West Seattle saw the largest decline of 24%.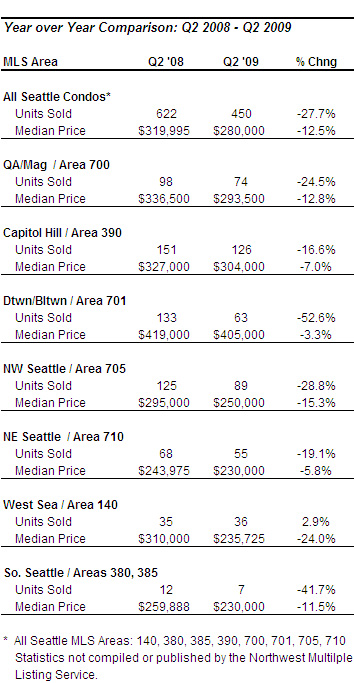 First Half 2009:
The first half 2009 results were not terrible different from the second quarter results with year-over-year citywide median price declining 11.5% to $283,000. Though, the number of units sold decreased 36% compared to the first half of 2008. Similar to second quarter 2009, Downtown / Belltown had the best median price performance, declining just 1.8%, while West Seattle had the largest decline of 19.7% compared to the same period last year.