The Seattle condo market continues to exhibit its buoyancy. The NWMLS market figures for April showed signs the market is beginning to improve. While values remain suppressed (plus for buyers) sales activity increased, which in turn, reduced the inventory supply rate (plus for sellers).
Last month, the citywide median condo price slipped to $268,000, a 2.6% decline from March and a 14.24% drop compared to April 2008. In fact, all areas of the city reflected declining median prices last month, so we still have a way to go before prices bottom. However, the graph below suggests that condo prices are plateauing.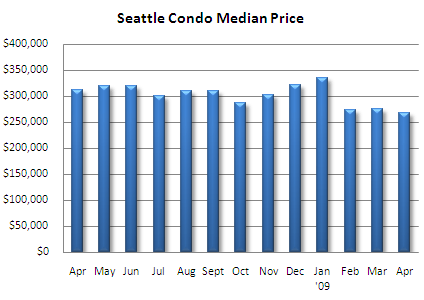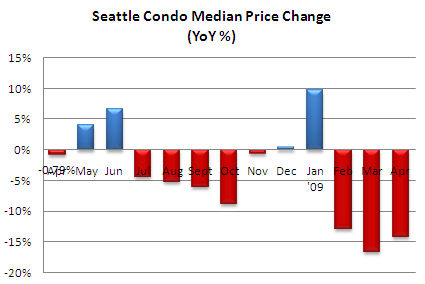 April reflected a considerable improvement in condo sales volume. Pending sales transactions (units going under contract) jumped 54.5% last month over March and remained on par with last April, + 0.9%, a good sign that the market is picking up. Though, sales were weighted towards lower price points (perhaps due to the tax credit), while sales for the higher price points, especially over $750,000, continued to lag.
In fact, demand is outpacing supply for the lower price points. Seventy-two percent of the units sold last month were priced below $350,000, though only 63.5% of the inventory today are priced below $350,000. Conversely, higher end units are in abundant supply. Eight percent of sales last month were priced above $500,000, though nearly 25% of the inventory today are priced over $500,000. The elimination of 205 units from Rollin Street should help to ease the excess supply at the upper range.
The available condo inventory remained unchanged from March at 1,362 units, though that's 13.4% fewer listings compared to last April. As a result of steady inventory levels and rising sales volume the citywide inventory supply rate (absorption rate) fell to 6.2 months, which would indicate a normal condo market. Though, I'm not ready to declare that we're back to a normal market since the monthly inventory supply rate has shown to be quite volatile. I also anticipate the supply rate will rise in the coming months – with an improving market sellers who've been on the fence will bring their units to market in addition to more short sales properties becoming available.
I haven't broken the supply rate by price points, though I suspect it'll follow that for lower price points the rate would reflect a normal-to-buyers market while for higher price points, it's definitely a buyers market.
As we progress from Spring to Summer the most robust segment of the market will continue to be at the lower price range fueled by first-time condo buyers. Falling prices, low mortgage rates and the $8,000 tax credit are providing the needed incentive to maintain this segment. Higher valued properties and sellers who purchased in the past 2-3 year (therefore, may not realize positive net proceeds) may continue to face challenges.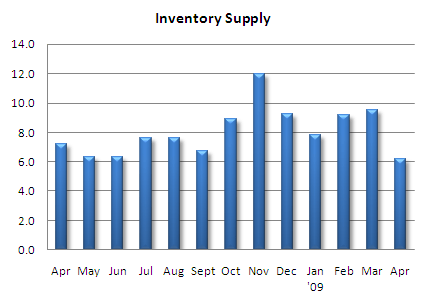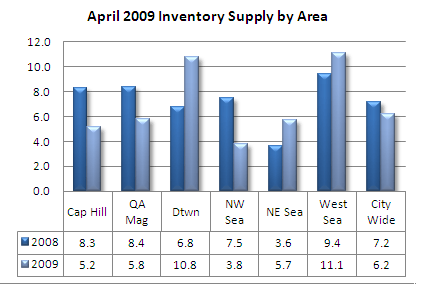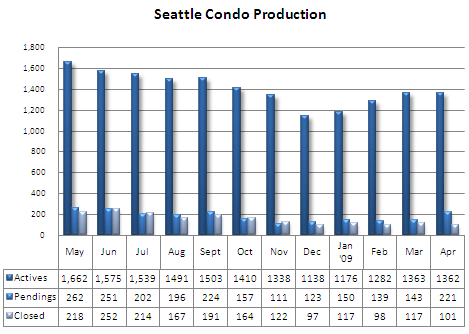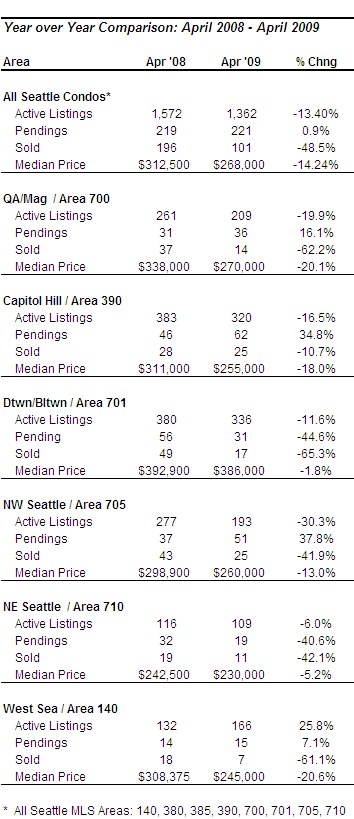 Data source: NWMLS, information deemed accurate but not guaranteed.