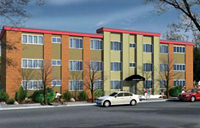 Seventeen07, a recent conversion at 1707 Boylston Ave is auctioning off 17 units with bids starting from $95,000 for studios, $195,000 for one-bedrooms and $215,000 for the two-bedroom units.
The auction, which is being conducted by Accelerated Marketing Partners, is scheduled for 2:00 PM on Sunday, October 19th at Hotel Monaco, located at 1101 4th Avenue. Bidders are encouraged to arrive between 1:00 and 1:30 pm to pick-up bid packets, and will need to be pre-qualified by either Wells Fargo or Countrywide (see auction site for more info).
Seventeen07 was converted earlier this year and has 36 units (studio, one- and two-bedrooms). The auction notice states that 17 homes will be available, though only six closed sales and two pending sales have been recorded in the NWMLS. It is possible the remaining 11 units were sold but never entered into the NWMLS system, or being held for a future sale. At least one unit, which closed this month, is available for rent.
For more information, visit www.auction1707.com.