Update Oct 2007: Max Condominium has ceased sales and will revert back to apartments.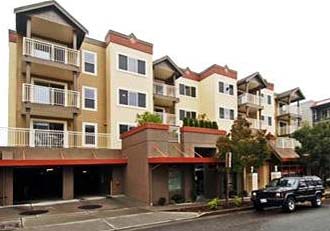 The Max Condominium (website) public grand opening was this past weekend at 8520 Evanston Ave N, just north of the Evanston. A condo conversion, the property was built in 1999 as the Maxville Apartments and designed by Weber + Thompson.
The 4-level Max features 30 homes with retail on the ground floor.
11 – one bedrooms that range in size from 617 to 645 square feet and are priced between $259,990 and $299,990.
6 – one bedroom + dens are 751 square feet and priced between $294,990 and $339,990.
12 – two bedrooms are 948 square feet and range from $349,990 to $409,990.
The lone studio is 468 square feet and is offered at $199,990.
The homes in the Max have standard issue apartment floor plans, but do feel larger than their stated square footage. And, units on the 2nd floor have massive patio areas, in some cases doubling the living space, though they do come at a premium. These homes would be perfect for people who entertain, garden or have a dog. The 3rd & 4th floor homes have decent sized decks and West facing 4th floor homes have views of the Olympics.
Inside, all homes have carpeted living rooms and bedrooms with tiled kitchen and bathroom floors. The bath and kitchen countertops are tiled with a stainless steel sinks in the kitchen. The homes also feature Frigidaire stainless steel appliances, washer & dryer, parking and additional storage. Pets are allowed, though dogs may be subject to breed restrictions.
If you go for a visit you'll notice that all the units are monochrome beige (carpet, walls, cabinets). Included with purchase, the developer will paint two accent walls.
The property is set about 1/2 block off of 85th Ave N so traffic noise is minimized. Its location provides an easy commute to downtown, access to I-5 and is within a few blocks to many retail, cafes and businesses along Greenwood Avenue.
All units have been updated and are immediately available for occupancy. A $5,000 earnest money deposit is required and the project's preferred lender is Rainier Mortgage.
Related: SCL's previous Max Condo post