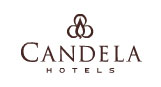 The Seattle PI reported this morning that Urban Visions' 2nd & Pike project will be known as the Candela Hotel & Residences. The 2nd & Pike project will be the first property for the Seattle-based Candela Hotels.
According to Candela, the 36-story project will aim for LEED Gold certification featuring 150 hotel rooms and 90 condominium homes. The hotel & residential project is expected to be a high-end luxury destination second only to the Four Seasons.
Read more about the Candela's philosophy & concept from the project's: press release & FAQ.
SCL's related article – 2nd & Pike update.