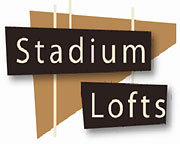 Stadium Lofts (website) is gearing up for its upcoming home sales this Fall. The Stadium Lofts project, located at 589 Occidental Ave South (map), will feature 85 single and multiple level loft homes within the historic 1905 building and its new addition.
Type of homes available
Live/Work Lofts – 3 two-level live/work lofts with private entries, 16'10" ceiling heights ranging from 1,050 to 1,400 square feet. Prices are expected to range from the $600,000s to $800,000s.
Single Level Lofts – 15 units on the 4th floor with 10′ ceilings ranging from 500 to 1,000 square feet. A number of units will have private terraces. Prices range from $300,000s to $500,000s.
Two-Level Lofts – 62 units ranging from 750 to 1,000 square feet. Homes on the 3rd floor features 16'10" ceilings and original exposed brick. Prices range from $400,000s to $700,000s.
Apex Homes – 5 units located at the apex of the flat-iron building. These homes, ranging in size from 1,000 to 1,500 square feet, feature large private terraces and most offer two master suites. Prices TBD.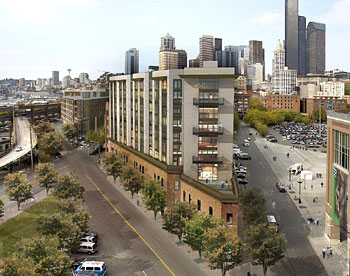 Pre-Sale Information (Updated November 2007)
The Stadium Lofts team is still working on finalizing finishes and has elected to begin pre-sales in early 2008. They plan to host a preview event and provide more finite pricing information at that time. The reservations will be converted to a Purchase and Sale contract once a firm construction & completion schedule has been determined, during the 1st quarter of 2008.
Upon notification, buyers will have 5 days to convert the reservation to a Purchase and Sale and the earnest money deposit will increase to 5% of the purchase price. The earnest money deposit will be non-refundable.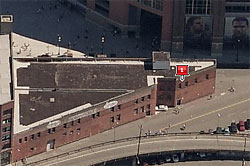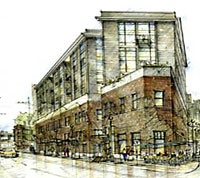 The Stadium Lofts building is located at the apex of Occidental Ave S and Railroad Way S, just off 1st Avenue S. In the above photo, Qwest Field is seen in the background and the 1st Ave on-ramp to the viaduct is in the foreground. While the area may not seem hospitable to residential homes, the popular Florentine Condominiums is just a few doors away. In the longer-term, the stadium's north parking lot will be redeveloped with offices, retail, apartments and condos.
Related Articles:
SCL's Stadium Lofts
SeattlePI North Lot deal moves ahead
King County north lot news release