With the exception of Northeast Seattle, the 2nd quarter 2007 figures exhibit an active condo market and healthy growth rate, compared to the same period last year. City-wide, the median price increased 8.4% with a 23.2% increase in units sold.
However, not reflected in the figures below was a 46% increase in city-wide new listings for the 2nd quarter 2007 (1,923) compared to the 2nd quarter 2006 (1,317). The increase can be attributed to new construction listings in the MLS, a plethora of conversions hitting the market, investor flips and resales.
While I did not include 1st quarter 2007 figures in the chart, compared to previously posted 1st quarter results, the 2nd quarter showed an increase in sales activity but a decrease in median prices, reflecting the overall softening of the market.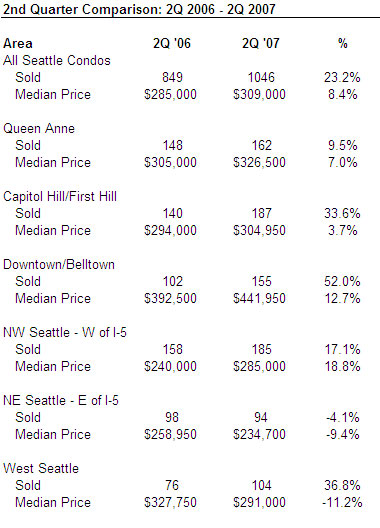 Source: NWMLS, information obtained from but not compiled by the NWMLS. Data based on closed sales information reported as of July 9, 2007. Information deemed reliable but not guaranteed.