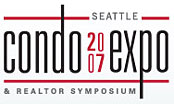 The 2007 Seattle Condo Expo is fast approaching. The expo, the first of its kind in Seattle, will be held this weekend at the Westin Hotel (map) and will feature exhibits of current condo projects, mortgage companies & developers, presentations and a Realtor Symposium.
Saturday, May 19th – 12:00 PM to 5:00 PM
Sunday, May 20th – 10:00 AM to 5:00 PM
For the event, the Westin's ballroom will be transformed into a replica of greater Seattle's neighborhoods with display booths situated at their corresponding projects actual addresses, from Capitol Hill to downtown to the Eastside.
One highlight of the event will be the unveiling of CityScape 2010, a photorealistic virtual reality video showing the evolution of Seattle's skyline over the next few years.
Admission is $10 and tickets may be purchased online at www.SeattleTixx.com.
For Exhibitor Listing and Presentation Schedule —
Exhibitors include
Condominium Developments: 1 Hotel & Residences, Ava, Bellevue Towers, Brix, Domaine, Enso, Equinox, ESCALA, European Towers, Expo 62, Fifteen Twenty-One Second Avenue, Gallery, Lumen, Marin, Pacifica Bay, Parc, Riverstone, Rollin Street, Stewart & Minor Lofts, Sierra Crest, The Bravern Signature Residences, Veer, Vida and Washington Square.
Developers: Avalon Holdings, Baja 1000 Development, LLC, Executive Development Group, Fana Group of Companies, Gerding Edlen, GIS International, Intracorp Group of Companies, Landstar, LEXAS Companies, Schnitzer NW, Shaw + Walker Development, Tonsing Development, Vulcan Real Estate, Wasatch and OPUS Northwest.
Architects/Interior Designers: Alchemy and Weber + Thompson.
Real Estate Services: bireM, NewCondosOnline.com, Realogics, UrbanCondominiums.com, Windermere OnSite and Windermere Real Estate.
Mortgage Lenders & Insurance Providers: American National Insurance, First Horizon Home Loans, Homestone Mortgage and Seattle Metropolitan Credit Union.
Community Organizations & Cultural Attractions: 5th Avenue Theatre, Belltown Business Association, Benaroya Hall & Seattle Symphony, Downtown Seattle Association, Fare Start, Lake Union Park, Pike Place Market Foundation, PONCHO, Seattle Art Museum & Olympic Sculpture Park and Seattle Department of Neighborhoods.
Presentation Schedule
SEATTLE AREA ECONOMICS AND REAL ESTATE MARKET FORECAST
Matthew Gardner, Gardner-Johnson, LLC
Saturday, May 19 (1 p.m., 4 p.m.)
Sunday, May 20 (1 p.m., 4 p.m.)
DESIGN, DEVELOPMENT & CITY GROWTH TRENDS
Blaine Weber, Weber + Thompson Architects
Saturday, May 19 (1:45 p.m., 4:45 p.m.)
Sunday, May 20 (1:45 p.m., 4:45 p.m.)
"CITYSCAPE 2010" – THE FUTURE OF DOWNTOWN SEATTLE'S SKYLINE
Dean Jones, Realogics / UrbanCondominums.com
Saturday, May 19 (2 p.m., 5 p.m.)
Sunday, May 20 (2 p.m., 5 p.m.)
"2007 STATE OF DOWNTOWN" – DOWNTOWN SEATTLE ASSOCIATION
Kate Joncas, President of Downtown Seattle Association
Saturday, May 19 (2:30 p.m.)
LENDING TODAY – THE REALITY OF MORTGAGE FINANCING
Homestone Mortgage and First Horizon
Saturday, May 19 (3 p.m.)
Sunday, May 20 (3 p.m.)
Related Posts:
SCL's Seattle Condo Expo 2007
Seattle PI's …Future of Seattle is just a Facade