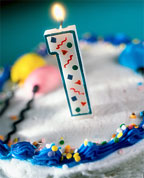 Today is our One Year Blogiversary!
We've had a great year, even when it seems like it's been longer. To all of our loyal and new readers…a very grateful "Thank you" for your support of Seattle Condos and Lofts.
To celebrate, we're having a drawing for a $50 Starbucks gift card. To enter, click here and enter "Starbucks" in the subject line & message field.
– Drawing ends May 23rd and the winner will be selected on May 24th.
– Entry information will not be retained or used for marketing purposes.
– Real estate industry professionals are not eligible to participate.