On the Horizon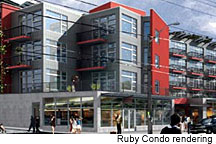 Eastlake area – Ruby Condominiums (website) at northern tip of Eastlake Ave E at E. Allison.
Lower Queen Anne – Luxe Condominiums (website) at 500 5th Ave W. Thirty-nine flats starting from the low $300,000s.
Escala Unveils Revamped Website
Escala unveiled a new website with additional features including home floor plans, an impressive virtual tour and a webcam.
Fini Preview Event Update

Fini's VIP Preview Event will be held next weekend, May 5th & 6th from 11:00 AM to 6:00 PM at their presentation center at 6802 Greenwood Ave N. (map). Homes will be available for purchase at the preview event with a 5% deposit.
Seattle Condo Expo 2007
Click here for updated event info.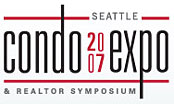 The Seattle Condo Expo and Realtor Symposium is set for May 19th & 20th at the Westin Hotel. Tickets will go on sale on May 1st and those interested in attending can register on their website. The cost of the event is $10 and can be purchased at www.SeattleTixx.com.
Kiro Radio has several short podcasts of interviews with several leading individuals in the Seattle condo craze including the developers of AVA & 1 Hotel, Blaine Weber of Weber + Thompson, Dean Jones of Realogics and economist Matthew Gardner of Gardner-Johnson…to name a few.
The event has blossomed into a two-day expo with a consumer focus. Last year, it was a single evening event aimed towards Realtors. The change this year sounds like a great opportunity for the buyers to immerse themselves with various projects at a single location as well as provide an opportunity to meet with architects and developers.