From the city's Department of Planning and Development:
Greenlake – Supplemental Design Review Meeting for the old Albertson's lot. The proposal is for a 4 story building with 137 units, 11 work/live lofts and retail space.
March 19th at 6:30 PM at the University Heights Community Center, 5031 University Ave NE Room 209.
Update: The Albertson's block will be developed as the Alexan Green Lake, a 137-unit 3-building apartment and retail complex (rendering below).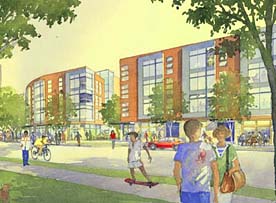 Queen Anne – Early Design Review Meeting for proposal at the corner of Queen Anne Ave & W. Crockett for 39 residential units and retail space.
March 7th at 8:00 PM at the Queen Anne Community Center, 1901 1st Ave W Room 1.
Capitol Hill – Early Design Review Meeting for a 6-story & 4-story apartment project at the corner of Broadway and E. John Street.
March 21st at 6:30 PM at Seattle Central Community College, Room 3211.
Belltown – Notice of Decision – approval with conditions for 2000 3rd Avenue (NE corner of 3rd and Virginia). Proposal is for a 43-story building with 431 residential units and a 40-room hotel…but with only 364 parking spaces.