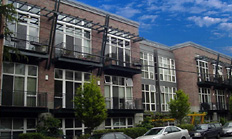 Located on the east side of Capitol Hill, the 19th Avenue Lofts feature high ceilings, decks or patios, stained concrete floors and gas fireplaces. Not far from Madison Street, the 19th Avenue Lofts are close to Trader Joe's, Madison Market, Safeway and restaurants.
The building features studio, 1- and 2-bedroom loft units ranging from 700 to just under 1,300 square feet. Though, most of the units are 1-bedrooms between 800-900 square feet.
Completed in 2003, market sale trend for this project shows that it has been appreciating approximately 12.5% per year for the past three years.
Number of floors: 4
Number of units: 45
Amenities: Secured entrance, parking.
Completed: 2004
Pet Friendly: Yes