Trace Lofts | 1408 12th Avenue, Seattle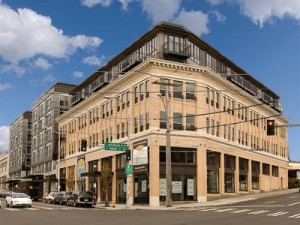 The Trace Lofts is part of a revitalization project of 12th Avenue between Pike and Madison on Capitol Hill. The Trace Loft is an upscale 42-loft renovation of a 1920s warehouse. Previously the building served as a sewing machine factory, a monastery and dance studio.
The 12th & Madison project incorporates the adjacent Trace North complex that features an additional 100 condos and 8,000 square feet of retail and restaurant space. Across the street will be the 12th & Pike Marketplace Lofts consisting of retail space and rental lofts. Nearby is the Pike Pine Triangle district offering numerous restaurants, shops, arts space, nightlife venues and cafes.
Number of floors: 5
Number of units: 42
Amenities: Roof top deck with P-Patch, secured lobby entrance, parking
Completed: 2007, originally built in 1919
Pet Friendly: Yes