Waterfront Landings | 1900 – 2000 Alaskan Way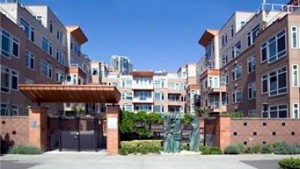 Waterfront Landings is the only residential condominium property on the downtown Seattle waterfront. The complex consists of three "u-shape" buildings offering a variety of floor plans. Though contemporary in style, individual units reflect their owners unique decor design. As you would expect for with a waterfront property virtually every unit offer views of Elliott Bay.
Waterfront Landings is conveniently situated between the Seattle Aquarium and the Bell Street Pier, just below the Pike Place Market.
Number of floors: 5 (three buildings)
Number of units: 234
Amenities: 24-hour concierge/manager and security, club room, roof top terraces with BBQ, exercise room, person hot tub, business center, guest suites.
Completed: 1997
Pet Friendly: Yes
View other downtown Seattle condo buildings: