September proved to be another exceptional month for Seattle's condo market, though there are signs that it may be changing.
The month ended with a bang with a new all time record high Seattle condo median sales price of $475,000, a year-over-year and one-month increase of 31.4% and 8.6%, respectively. That, of course, was due in part to the completion of the LUMA Condominium on First Hill.
Excluding the LUMA & the remaining Insignia closings, the citywide median would be $366,250, which still would have been a slight year-over-year improvement of 1.3%.
Nearly 40% of LUMA's inventory is yet to close and most of those will do so this month, so October should reflect another strong month for the city's median condo sales price before dropping off in November.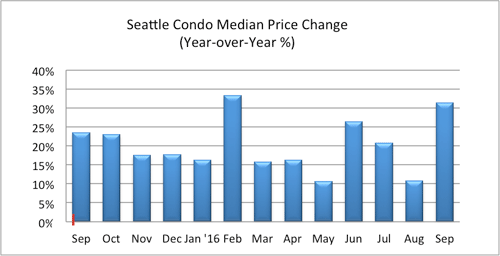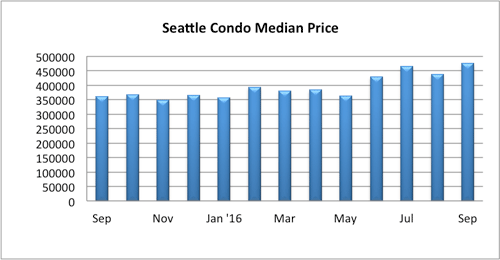 Interestingly, with Insignia essentially sold and closed out, the median sale price in the downtown area is normalizing, falling to $695,000. That's a year-over-year dip of 2.4% and a one-month slide of 23.6%.
Coming out of Summer into Fall we typically see inventory levels start to decline, however, it's been ticking up instead. The number of active condos for sale (MLS listed) last month increased 5.9% over the same period last year to 325 units.
That's notable for two reasons. First, it's the first time in a while that we've seen inventory surpass the year-over-year level. And second, it's the highest number of units listed for sale in a given month going back the past 16-months.
Additionally, the inventory gains came from North Seattle and West Seattle, reflecting existing resale units rather than new construction.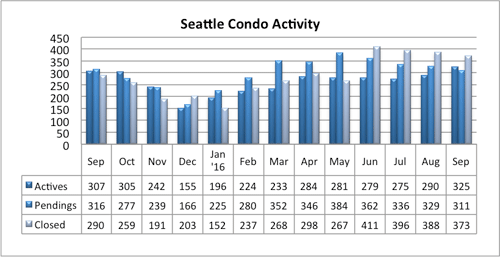 With more listings for sale, the inventory supply rate rose to 1-month supply, which is still keeps Seattle in a very strong seller's market, however.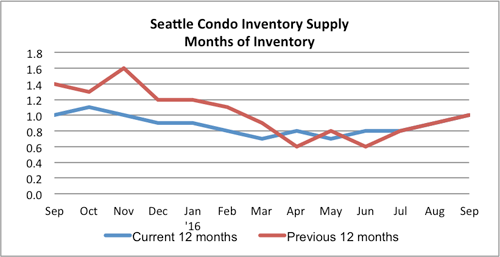 Seasonally, we also expect sales activity to taper offer and it did, with the number of pending sales transaction (properties under contract) reducing 5.5% to 311 units from the prior month. However, sales also slowed compared to the same period last year with pendings down 1.6%.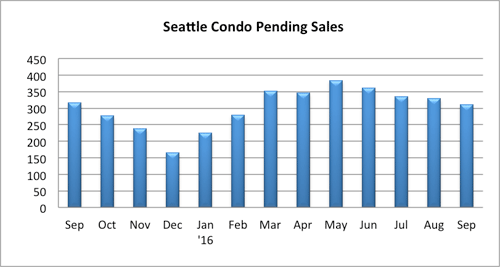 As a result of the new construction closings at Luma and Insignia, which accounted for 38% of the total closings in September, the number of closed units rose to 373. That's a year-over-year increase of 28.6% and 3.9% fewer than August.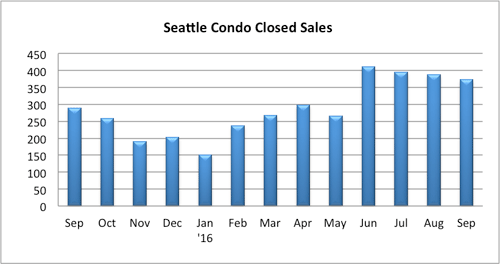 It's too early to read much into the results for September, though, aside from the seasonal slow down, there are signs of an overall slow down. On the other hand, with virtually all of the new construction inventory now absorbed and only about another 150 (currently under construction) to be delivered over the next 2-3 years, condo inventory will remain constrained.
Note on the table below, excluding the LUMA sales from Area 390, the resale condo median sales price would have been $399,250.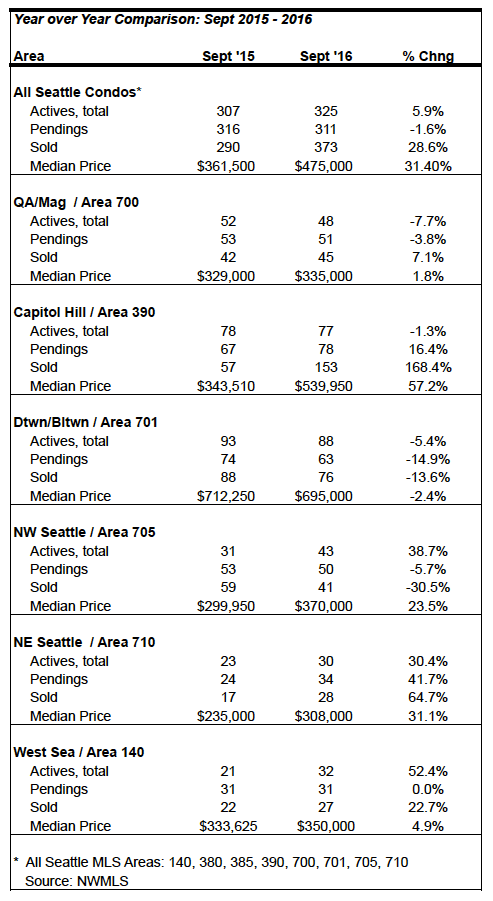 Source: NWMLS. Some figures were independently compiled by SeattleCondosAndLofts.com and were not published by the Northwest Multiple Listing Service.
________________________
© SeattleCondosAndLofts.com