Building envelope study. I've been hearing that term a lot recently, specifically in regards to a few of the new condo buildings in the downtown / Belltown area. But, it's not an uncommon occurrence within the condominium world…at some point during a building's lifetime the association will likely undertake a building envelope study.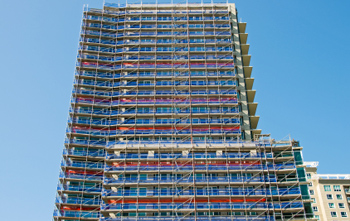 They usually take place when an issue arises or as part of a preventative maintenance routine. The findings, if any, do not necessarily indicate the potential defect(s) will affect the structure or owners' livability and enjoyment of the property. In severe cases, though, it may indicate major repairs will be needed (e.g. residing) and may be an impetus to levying an assessment and/or even litigation.
There are issues that owners should be aware of when contemplating a building envelope inspection, as well as for buyers considering making a purchase in a building that recently completed a study.
For owners and associations, a building envelope inspection is important to determine if there are underlying issues, and if so, their extent. It may be unavoidable. But, it can be a double-edged sword. As the Condo Law Group noted, if a building envelope inspection finds defects, even if there is no physical damage, it becomes a disclosure item. Having an independent report stating a building has defects may devalue the property in the mind of potential buyers.
In the worst case, an association may need to establish a special assessment or initiate a lawsuit, even if it's procedural in nature. The unfortunate effect of litigation is that lenders will avoid financing purchases in those buildings until the suit is resolved. Absent cash buyers, a lawsuit may delay sales…potentially for years.
On the other hand, once repairs are made, with its (fill in the blank – new siding, windows, decks, etc) the building becomes more appealing for buyers knowing that it's been updated and issues resolved.
Buyers contemplating purchasing a unit in a building that has undertaken a building envelope study should not be dissuaded by that fact. However, they should review the report findings thoroughly and determine the reason for the study. Buyers should do their due diligence in noting how comprehensive the inspection was, the standards used and if a reputable firm completed it. In some cases, a building envelope study may have been nothing more than a visual inspection of the exterior.
If you're considering condo living, let our knowledgeable condominium specialists and inspection partners guide you.
__________________________
© Seattle Condos And Lofts