Belltown might finally be rid of the pile of dirt at the corner of Battery and Elliott (2334 Elliott Avenue). The property's owner, the Pauls Corporation of Colorado, is moving forward with plans to develop the parcel. They've filed an application for a design review meeting.
Back in 2007, Pauls had proposed a 9-story glass enclosed townhome-style condominium called Arthouse. But, when the condo market collapsed this project fell by the wayside, but without the dignity of asphalt.
Early Arthouse rendering from 2007: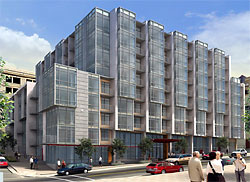 The new proposal is a 7-story building with approximately 140 residential units and 4-5 live work lofts with 90 underground parking spaces. The current design and housing marketplace suggests this will likely be apartments.
A design review meeting has been scheduled for this project.
Date: Tuesday, August 23rd
Time: 5:30 PM
Location: Seattle City Hall, Boards & Commissions Room