The Olive 8 Condominium, a luxury downtown Seattle condo, released a sample of its new prices as part of its re-energized marketing strategy this morning. The new pricing strategy includes reductions across the board that vary from about 15% to more than 25% on some homes, according to Julie McAvoy, the Community Sales Director for Olive 8.
Sample Price List (January 2011):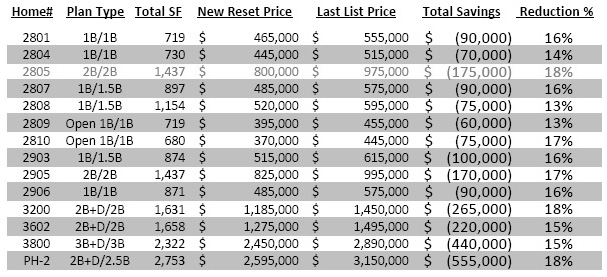 The new price list comes out about a year after prior reductions that ranged from 10-15% and last fall an auction helped sellout targeted inventory below the 27th floor, according McAvoy and NWMLS history. She estimates the total reductions in aggregate now range from 30-40% below presale pricing in 2007. "It a compelling opportunity for savvy homebuyers," said McAvoy. "With prices correcting, timing the market may now have more to do with securing preferred selection and historically low interest rates versus anticipating further price cuts. I think we're at a pivotal time in the center-city (Seattle) housing market and each community has a unique relationship within it."
David Thyer, President of RC Hedreen Company and developer of Olive 8 says he monitors market values but acknowledges the only price that matters is the one that a buyer wants to pay. "We're not inclined to further discount given recent sales comps in the building," he said. "We know Olive 8 provides a great value today and we're working our way up the building. Our three year construction loan extension provides us the time to sell into an improving marketplace over the next two years or so. Fortunately, we've saved our best inventory."
McAvoy reports 10 new sales have been accepted so far in 2011 and active negotiations are taking place on several other homes. "I think buyers and sellers are finding better balance in supply and demand at Olive 8 and elsewhere," she said. "It's a signal that the market is stabilizing and an increase in sales means buyers are becoming more confident in home values."
View available Olive 8 Condo homes for sale.
Disclaimer: Olive 8 is an advertiser of The Seattle Condo Blog at time of publication.