Update: On March 4th, the developer changed the format of the auction, cancelling the public auction that was scheduled for March 5th at the Grand Hyatt. Instead, the Gallery condo units slated for auction will be sold through a "Buy Now" event, open to those who previously registered for the auction. At the Buy Now event, which is being held at the Gallery Condo building, the sales staff will meet with buyers individually on a first-come, first served basis.
Schnitzer will auction 25 additional open one-bedroom units at their Gallery Condominium building in Belltown on March 5, 2011 at the Grand Hyatt hotel in Seattle. This auction follows a similar format as Schnitzer's previous auction of 43 Gallery Condo units back in September 2009.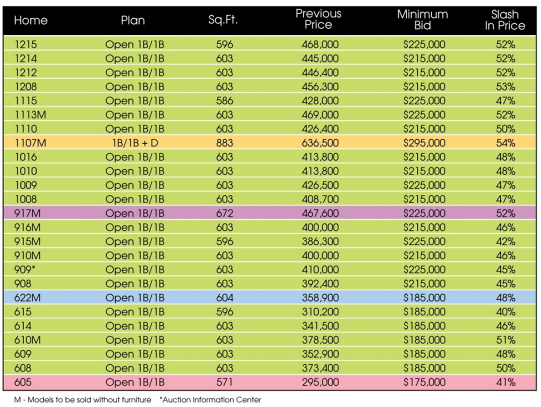 Auction website: www.auctionthegallery.com
Update: adding press release info & table of homes
SEATTLE (January 26, 2011) – Gallery Condominium, LLC has saved the best inventory for last of its new Belltown condominium homes. Accelerated Marketing Partners (AMP) will launch the final close-out of the new home inventory. The auction will be held on March 5, 2011 at the Grand Hyatt in downtown Seattle, providing a rare opportunity for prospective homebuyers to purchase a new condominium at steeply discounted prices. Gallery is currently more than 80 percent occupied, due in large part to the highly successful auction AMP conducted in September of 2009.
Situated at 2911 Second Avenue, Gallery offers outstanding views of Elliott Bay, the Space Needle and Mount Rainier. Several homes slated for auction at this one-day event are the open, one bedroom/one bath plans with a variety of square footage layouts. These homes are ideal for the professional, empty nester, and as well as the perfect pied a terre for very special "city" living. The innovative designs offer maximum use of space, ranging in size from approximately 571 to 672 square feet. Buyers can choose from a number of configurations to define living areas and bedroom areas. Included in this sale is also a new one bedroom/one bath plus den at approximately 883 square feet with exceptional views of Elliott Bay.
Prior to the auction, prospective buyers will have an opportunity to view all available auction units as well as fully furnished models and examples of the partitioned, open floor plans. The Auction Information Center and models will be open daily from 10 am to 5 pm with extended hours on Thursdays until 7 pm. Additional information is available at www.AuctionTheGallery.com or through Gallery's auction concierge services at 1-888-982-8988.
"This exciting auction opportunity will be the last chance to allow homebuyers to determine value within this successful new residential Seattle condominium development. Home buyers can feel comfortable and confident they are participating in a transparent bidding process," said Ken Stevens, west coast CEO of Accelerated Marketing Partners, a national, full-service real estate firm that conducted the previous launch auction events at Gallery and its sister property, Brix.
Ideally located at the north end of Belltown, Gallery is perfectly situated to capture Space Needle views to the east and Elliott Bay panoramas to the west. Gallery features abundant amenities within its concrete and steel frame construction, customized floor plans and upscale finishes. Features of these homes include European-styled kitchens with custom cabinetry, slab granite or microcrystal countertops and premium stainless steel appliances; floor to ceiling windows; hardwood floors; and generous balconies.
Amenities include a full-service concierge staff, a two-story lobby, Owners Lounge, an exclusive Supper Club and Sky Lounge. Whether entertaining a large crowd or hosting an intimate dinner for eight, Gallery is designed to accommodate.
Auction brochure (pdf)