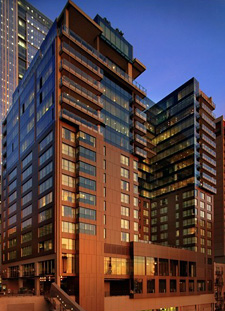 The Four Seasons Private Residences recent closed on the highest valued condo sale in the Seattle market this year. A two-level 5,256 square foot penthouse shell sold for $7,198,000. Another home at the Four Seasons sold for $6,300,000 earlier this year. Presently, only 11 luxury condo homes remain available at downtown Seattle's most esteemed residential address.
At the other end of the spectrum, the more affordably priced condos at the Danielle in Ballard are also selling well. Though only on the market since Summer, Danielle is already 30% sold. That's a great pace for a new condo development considering the state of the Seattle condo market. The project is also FHA approved which may account for their brisk sales.
The Sanctuary (First Church) townhome development on Capitol Hill hasn't been as lucky. The Capitol Hill Seattle blog reported (via Urbnlivn) the landmark building's redevelopment is in a bit of a financial conundrum. According to CHS, the bank holding the construction loan is seeking a judgement against the developers for the $9.2 million outstanding.