TeamBuilder JLS is conducting an auction of 19 condominium and townhome units on Saturday, October 30th at the Lynnwood Embassy Suites. The properties are located in North Seattle and Edmonds.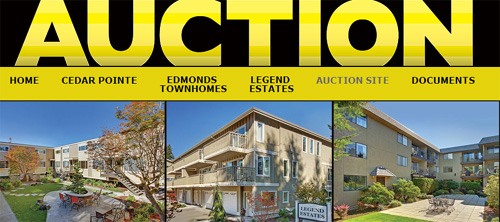 The starting bid is the reserve price so the highest bid will be the winning bid.
A "how-to" information seminar will be held on Thursday, October 21st, which is beneficial for those who have not participated in a real estate auction previously.
Additional information, including the list of available properties, the auction terms and requirements, can be viewed on the auction's website: edmondsauction.com
About the properties:
Cedar Pointe Condominium:
The Cedar Pointe auction includes 7 studio, one-bedroom and two-bedroom homes with bids starting at $59,000. Cedar Point is located at 750 N 143rd Street in Seattle, just north of Bitter Lake. The 76-unit building was originally built in 1978 and converted in 2007.
Edmonds Townhomes:
The Edmonds Townhomes is located at 233 3rd Ave North in Edmonds, which is close to Edmonds' downtown and waterfront. The auction features 6 of the building's 20 units with a starting bid of $179,000. The building was constructed in 1965 and converted in 2008. It's a single square-shaped structure with an interior courtyard. There is a homeowners association with dues approximately $170/mo.
Legend Estates:
The Legend Estates in Edmonds is a collection of condominium townhomes constructed between 2006 and 2010. The units available in the auction are in one of the newer buildings (7803 218th St SW) and feature 2,400 square foot two- and three-bedroom homes. There is a homeowners assocation with dues around $270/mo. The minimum starting bid is $189,000.