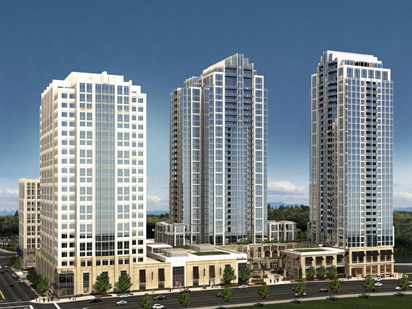 The Bravern Signature Residences hit another snag in the depressed Bellevue condo market. The massive development is comprised of two luxury residential towers, two office towers (mostly leased to Microsoft) and upscale retail anchored by Neiman Marcus.
Earlier this year Bravern's developer, Schnitzer NW, converted one of the two residential towers from condos to apartments. Yesterday, the Seattle Times reported the second tower will be converted as well, effectively removing 451 units from Bellevue's condo inventory. The Bravern's condo homes were previously offered starting from around $1 million. With leases starting from $1,550, renters will be able to live in style for a fraction of the cost compared to purchasing the very same homes.
The Bravern's plight may be a boon for two other downtown Bellevue condo developments – Bellevue Towers and One Main Street. Potentially, buyers at Bravern may be lured to the comparably upscale Bellevue Towers, which has experiencing sluggish sales as well.
Back on this side of the lake, TeamBuilder JLS and Rennie Marketing announced that they have successfully closed out all 278 units at the Canal Station and Canal North condo developments in Ballard. Though the developer units have sold out, there are a number of resale units available for buyers looking to live in this prime spot in Ballard.
The only other new condo development in Ballard is The Danielle, which has seen brisk sales since coming on the market this summer. The Danielle is now over 30% sold.