Excerpted from press release.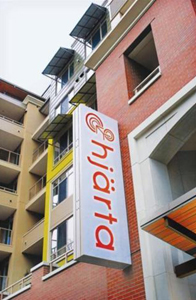 The developer of the Hjarta Condominium in Ballard and Florera at Green Lake, Pryde + Johnson, will reintroduce condo sales within two partially leased buildings by offering current tenants and new buyers discounts up to 35% off original list prices. Inventory will be officially released for sale on March 27, 2010 as part of a bulk sales approach where the seller offers a volume sales discount in exchange for quick closings.
"We're meeting the market on price and are committed to selling through as condominiums," said Curt Pryde, principal of Pryde + Johnson and developer of both Hjarta and Florera Condominiums. "Homebuyers will also benefit from our preferred selection, FHA financing (3.5% down payment), today's low interest rates and other limited-time incentives such as Federal tax credits up to $8,000 (for purchases contracted before April 30, 2010)."
Anticipating the market correction, Pryde restructured debt to lease unsold homes upon delivery in 2009 – many with an option to purchase. All leases expire in 2010 and will not be extended, he said. "We're offering unparalleled product at a tremendous value," said Pryde. "This is reflected in attractive monthly payments and provides for capital appreciation – the law of supply and demand will put upward pressure on values over time."
As a first phase release, 12 homes will be available for sale at Florera along with 18 homes at Hjarta (30 homes total). Additional homes will be offered for sale as they become available and after current residents consider their purchase option.
Studios (578 – 598 sq. ft.) will start from $244,950;
One bedrooms (614 – 921 sq. ft.) will start from $274,950,
One bedroom plus dens (792 – 923 sq. ft.) will start from $314,950;
Two bedrooms (1,037 – 1,447 sq. ft.) will start from $399,950
Two bedrooms plus den penthouses (1,331 – 1,578 sq. ft.) will start from $589,950
Realogics Sotheby's International Realty will represent Pryde + Johnson in their bulk sales program. The local brokerage firm drove dozens of sales at Eleven Eleven East Pike on Capitol Hill and The Decatur on First Hill using a similar volume sales approach instead of an auction.
"We help sellers find the market and offer buyers auction-like prices without the gavel," said Sam Cunningham, broker and partner in Realogics Sotheby's International Realty. He points to numerous auctions in the Seattle area, which advertise minimum bid prices up to 60% off but after minimum reserve prices and prevailing market demand, result in sales discounts 20 – 35% off previous list prices. "Recently announced condo auctions and price drops in downtown Seattle will help draw buyers off the fence and into the greater marketplace," he added. "Considering this highly competitive sales environment and perishable tax credits – it's a great time to be a buyer."