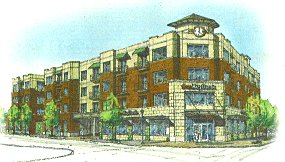 Not far from Seattle's most active park sits Florera Greenlake (website will be updated shortly) the newest condominium project in the Green Lake neighborhood. Developed by Pryde+Johnson, Florera is a green constructed building featuring finishes made from sustainable resources and is targeting LEED Silver certification. The project is located at the corner NE 70th and NE Ravenna Blvd (map).
Florera features 80 studio, one-bedroom, one-bedroom + den and two-bedroom homes which will be completed in two phases. Phase I, which has been topped off, features just over 50 homes and is expected to be completed this October. Phase II, where the current sales office is located, will include 18 units and is expected to break ground later this Spring with a 2008 completion date.
Standard features & amenities include:
Choice of finishes – Zen, Quarry, Bathouse
Bamboo Flooring
Eco-terrazzo countertops
Terraces or balconies
Stacked front-loading washer & dryer
Roof top deck with BBQ
P-Patch for residents
Central courtyard
A common Amenities room (club room, wi-fi)
A Flexcar
Pet-friendly, two pet limit w/breed restriction
All homes come with one parking space though the larger two-bedroom corner units have two parking spaces. Storage will be available as an option ($4,500 to $6,000) that'll be located in the Phase II building, so residents will need to wait till 2008. Views of Green Lake are available from the 4th floor units and roof top deck.
Studios range in size from 572 to 583 sq ft and priced between $329,950 to $344,950
One-bedrooms range in size from 640 to 795 sq ft with prices from $349,950 to $455,950
One-bedroom + Alcove or Den range in size from 784 to 912 sq ft with prices from $405,950 to $495,950
Two-bedrooms range in size from 920 to 1,201 sq ft and are priced from $595,950 to $849,950
View Price List (PDF)
As of today (2/24), nine homes have been sold. The sales office is open Friday thru Monday, 11 AM to 4 PM or by appointment. The sales office includes finish samples and floor plates, but there are no vignettes or model available.
Pre-sale process:
Select preferred plan and take a hard hat tour. Tour appointments are available on the weekends from 11 AM to 3 PM on the hour.
Earnest Money is due at time of the purchase and sale; homes up to $349,950 require a $7,500 deposit, homes from $350,000 to $499,000 require a $10,000 deposit, and homes over $500,000 require a 3% deposit.
Pre-qualification by the preferred lender, Wells Fargo ($1000 buyer bonus towards closing costs).
Public Offering documents and HOA dues info will be provided within 60 days of the purchase and sale.
Your own buyer's agent can assist you with the pre-sale process.
Prices are comparable to city-core developments, though Green Lake properties do come at a premium. Deciding to buy and live at Florera is a lifestyle choice. It does not have many common amenities; developers took into consideration that most residents would take advantage of Green Lake Park just two blocks away. And, unlike downtown, Florera is the only major condominium project in the area and the first at Green Lake in over 4 years.