Marselle Condos – Cusp of Lower QA, SLU.
Marselle recently reported they have sold another 14 units in 14 days. Given the number of updates I see daily in the MLS, Marselle is definitely moving its inventory, no doubt given its pricing levels and nice interior finishes.
Danielle Condos – Ballard
Things are moving along and the development is expected to be ready for occupancy in a few months. I've been meaning to write an update on Danielle. I'll work on getting that up soon. Tonight, I noticed they're running commercials on TV.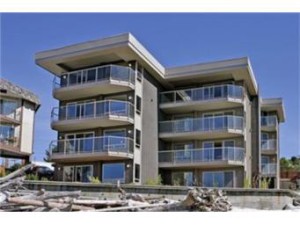 Beach Drive Condos – Alki
This boutique 8-unit conversion was taken over by Matrix recently and one unit is now under contract. Matrix will correct me if I'm wrong, but I believe the conversion was completed back in 2008 but has yet to record a sale.
Currently, only one of the remaining 7 units is listed in the NWMLS database. Unit #301 is a 1,120 square foot 2-bedroom, 1.75 bath unit listed at $509,950. That reflects a 13.5% reduction from when it was last listed about a year ago and 32% less than when it was originally listed for $749,000 back in September 2008 (a $239,050 reduction).
Project websites:
Marselle
Danielle
Beach Drive