Kennedy Wilson has been tapped to conduct the auction for the remaining 18 units at 5th & Madison.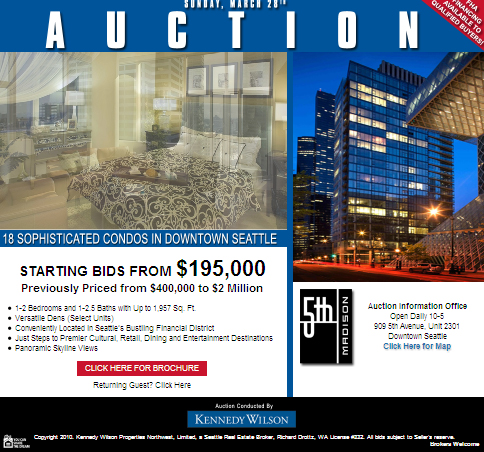 The minimum bid starts at $195,000 for 808 sq ft one-bedroom units on the 17th & 18th floors. Those were previously priced between $399,000 and $415,000. The highest starting bid is $995,000 for a 1,957 sq ft penthouse that was previously listed at $1,995,000.
The auction will be held on March 28, 2010 at the Grand Hyatt Seattle (721 Pine Street) starting at 1:00 PM. Homes can be viewed at 5th & Madison daily from 10:00 AM to 5:00 PM.
As with previous auctions, Kennedy Wilson will be hosting a "How to buy at auction" seminar the week prior on Sunday, March 21st. This is a great way to learn about the auction process and participate in a mock auction. I've been to a few of these and they're sort of fun.
For more information, including units available, floor plans and auction documents, please visit: www.5thandMadisonAuction.com
If you need guidance through the auction process, we're here to help.