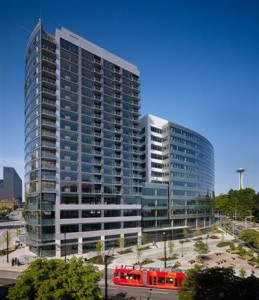 Adapted from a press release.
Welcome mats will soon roll out for homebuyers at Enso, Vulcan's highly anticipated new LEED Gold certified condominium project in downtown Seattle's South Lake Union neighborhood. Enso buyers began closing on their new homes today, and will start moving into Enso tomorrow and through early next year.
During one of the most difficult real estate markets in history, Enso has continued to attract growing interest from a range of buyers, with 55 percent of the 135 homes now sold. A total of 75 sales contracts have been signed with both new buyers and existing buyers in the last six months alone, translating into a robust 13 sales per month. The South Lake Union Discovery Center has also seen a nearly 60 percent increase in condo-related traffic in November compared to last year.
Enso has also received Fannie Mae approval, a critical step in allowing buyers to obtain loans and close on their new home purchases. Most lenders also typically require a project to have at least 51 percent of owner-occupied homes for buyers to obtain financing. By successfully achieving a strong enough level of pre-sales at Enso before allowing buyers to close, Vulcan has been able to preserve the project's ability to attract new buyers seeking assurance they can close in a timely manner and avoid the prospect of auctioning its remaining condo inventory at a diminished value.
As part of Vulcan's novel sales strategy in response to a declining real estate market, it significantly reduced condominium prices in order to attract both new buyers and retain existing buyers – helping them preserve equity in their homes from the outset. As the first condominium project in Seattle to revise Purchase and Sales agreements with new reduced pricing for existing buyers on a large scale prior to closing, many of Enso's pre-sale buyers have decided to re-commit to the project and close on their homes. Pricing for Enso homes ranges from the low $300,000s to over $1 million.
"We saw many buyers from other projects who decided to walk away from their earnest money because they could not obtain financing or did not want to purchase a property for more than it was now valued," said Ada M. Healey, vice president of real estate at Vulcan Inc. "We understood how critical it was to go back to our pre-sale buyers – who bought at the height of the market – and proactively lower prices to 2009 levels. We carefully monitored market conditions to ensure our homes were priced to sell. We took a long term outlook and wanted to do what was best for our buyers, the neighborhood and ultimately, our project."