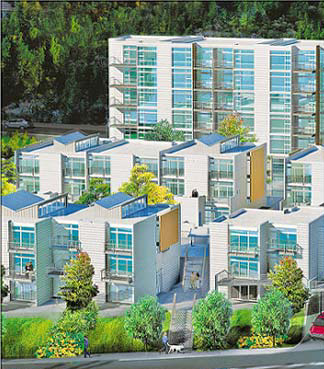 According to the Daily Journal or Commerce, the Domaine Condominium development on Aurora Avenue is being offered for auction (Trustee's Sale) on February 6, 2009 to the highest and best bidder. Intracorp, apparently, was unable to unload the project as apartments as it did with Expo62.
The article states a limited liability company affiliated with Intracorp is in default on a $22.51 million construction loan with KeyBank. They are also behind on a $11.6 million mezzanine loan through Residential Funding Company (RFC), plus interest and other fees. RFC is foreclosing on all its collateral for the loan.
Intracorp has been hit hard this year with dismal results of its downtown condominium strategy (Expo62, the Parc, Domaine and 1915 2nd Avenue) and, reportedly, reduced its staff.
The auction will take place at 9:30 AM at the King County Administration Building on February 6th, 2009.