MODE Seattle – Capitol Hill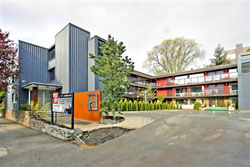 Situated at the residential end of Bellevue Avenue E, you'll find the 36-unit MODE conversion development. Originally constructed in 1957, the 3-story walk-up has been tastefully reinvented and features a mix of studio, one- and two-bedroom homes.
MODE offers an affordable option for Capitol Hill homeownership with units starting at $159,950 for studios and $214,995 and $299,950 for the one-bedroom and two-bedrooms, respectively. Though, there's a trade off, the homes tend to be on the small side – the studios are 360 sq ft and the one-bedrooms start out at 450 sq ft in size. And, parking (first-come, first-served) and storage are available as options.
According to Rian Cool, MODE's sales manager, the project has been popular with buyers – 1/3 of the homes have sold since coming on the market in May. A $5,000 preferred lender buyer bonus is available.
MODE Condominium
752 Bellevue Ave E
www.modeseattle.com
beacon FLATS – North Beacon Hill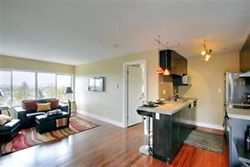 MODE's twin, Beacon Flats, share the same vintage, style and finishes as its sibling. The primary differences are location, number of units (16 studio and one-bedrooms), lack of parking and pricing. Beacon Flats start at $169,950 for studios and $194,950 for the one-bedrooms. A $5,000 preferred lender buyer bonus is also available.
Beacon Flats is located in North Beacon Hill, close to the International District, downtown and the I-90 interchange (an easy commute to the Eastside).
Beacon Flats Condominium
1401 S. Holgate
www.beaconflats.com
The Ballard Trio – Ballard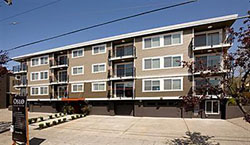 The Ballard Trio (Aros, Oslo, Voss) is the latest conversion by The Northlake Group. The trio is comprised of three identical buildings on NW 59th at 24th Ave NW. Oslo was the first to be completed and its homes are beautifully appointed. But, since I toured the property in March, Oslo has only sold 5 of its 19 units.
Homes start at $199,950 (listed) for studios and range up to $599,950 for a three-bedroom. Though, aside from the studios, the homes essentially start from the high-$200,000s. Given its price range for the Ballard area, the trio are competing directly against new construction inventory. If you got $300,000 to burn in Ballard, do you opt for new construction with lots amenities or a conversion with no amenities?
To help sway condo buyers their way The Ballard Trio is offering very enticing incentives – up to an additional $15,000 of the list price, paid HOA Dues, a gas card & a Costo card, 37″ TV and all closing costs paid (subject to lender restrictions). It's well worth the look.
The Ballard Trio
NW 59th St at 24th Ave NW
www.ballardtrio.com