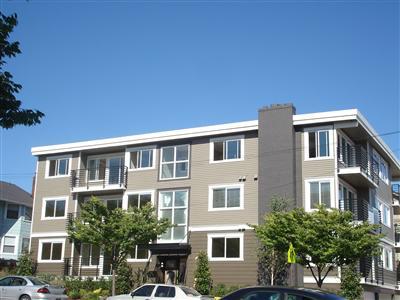 The Northlake Group has been busy with a number of conversions in Ballard as mentioned previously. The latest is 6000 24th Avenue which features ten 2-bedroom and one 3-bedroom units.
The homes range in size from 653 square feet (seems rather cozy for a 2-bedroom) to 1,516 for the 3-bedroom penthouse unit. Home prices start at $399,900 and goes up to $899,900.
Home amenities include cherry cabinets, slab granite countertops, stainless appliances, in-unit washer & dryer, large decks and fireplaces (select units). Unfortunately, parking and storage are not included but available as options. For homes beginning at $399,900 it should include parking & storage.
Nevertheless, they have done a remarkable job with the conversion and the building is located within a few of blocks to QFC, parks and the main Ballard business district.