Stadium Lofts (website) has a new developer and a new look. As previously reported, Barrientos has taken over as owner and developer of the project. Since its initial conception, Stadium Lofts has grown in scope – height, number of residential units, number of parking stalls and number of commercial units.
Williams Marketing showed off the new concept during focus group events last week. The purpose of the focus group was to gage participants interest in various home features such as the type of cabinets, windows, appliances, heating/air conditioning, common amenities, green building methods and so forth.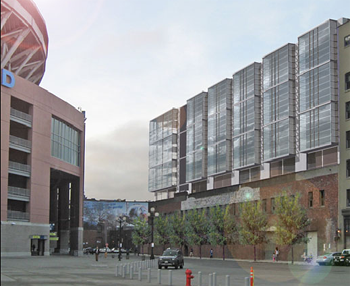 The new Weinstein A|U design is much bolder than previous incarnations, blending historical elements with a cleaner, modern aesthetic. In a sense, it provides a transition from Pioneer Square to the stadiums and the future North Lot development. The new design has cleared the Pioneer Square Preservation Board.
Stadiums Lofts will now rise 11-stories with 4-residential levels. The residences will be located in the new concrete and glass framed structure above the existing building. The 5th floor (current roof level) will be comprised of 20 single-level flats ranging in size from 450 to 500 sq ft with one 1,250 sq ft unit. The 60 two-level lofts will be located above and range in size from 750 to 900 sq ft. The top floor lofts will also feature private roof top decks.
A number of the 5th floor flats are being designated affordable, available for individuals earning up to 115% of median income. The project will not include live/work loft units.
Home features and finishes are still being determined at this time.
The entry to the parking garage has moved from Occidental to Railroad in order to provide residents unhindered access on game days. The project will also include a 5th floor terrace and 3,000 sq ft of ground level common area amenities. Space for 2 restaurants and 2 commercial units are also being included in the design.
Occupancy is slated for Fall 2010. Pricing and pre-sale information is expected to be released during the first part of 2009.