In city, urban revival isn't just a downtown occurrence. Over the past few years, sleepy Georgetown has been slowing reinventing itself from an industrial district, to a haven for artists, and soon, into the next hot spot to live and/or work, not too different from what Ballard has been through.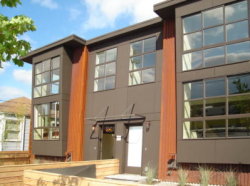 One of the newest residential developments is Georgetown Lofts at 6706 Corson Ave So. The five-unit project developed by Murray Kahn features two loft-style homes (facing Corson) and three townhomes ranging in size from 800 to 1,264 square feet.
The two-bedroom loft homes provide approximately 1,035 sq ft of living space on three levels. The main level + loft span 19 feet in height providing an open and airy living area while the bedrooms are located on the lower level. In the rear are the townhomes, 2 two-bedrooms and 1 two-bedroom + den unit.
The homes have a modern, industrial appeal with polished cement floors on the lower level, steel encased stairs and bannisters, cantilevered walls and ceilings, "rusted" corrugated siding and industrial style light fixtures. Georgetown Lofts won't appeal to everyone. On the other hand, it provides a fantastic edgy alternative to the run of the mill townhomes popping up throughout the city.
Prices for the homes will likely range from the mid-to-high $300,000s. More info to come.