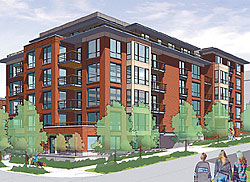 200 West Highland condominium project on Queen Anne's South slope recently updated their website www.200westhighland.com. Buyers can now view floor plans, home features and general information about the project.
The project's 25 condominium homes range in size from 1,500 to just over 2,800 square feet and are offered from $1.23 million to $4 million. The building is located across from Kerry Park and will provide homeowners the same exceptional views of downtown Seattle and Elliott Bay.
200 West Highland is anticipating occupancy this Fall. Interested buyers should consult with their agent to schedule an appointment at the project's Presentation Center located in near the Pike Place Market at 2025 1st Avenue.
Map of 200 West Highland Drive