Just West of Seattle City Hall is the proposed Civic Square project that'll encompass an entire city block between 3rd and 4th Avenues and Cherry and James Streets.
Civic Square will feature an open plaza with an amphitheater, water features, retail space, a Metro/Light Rail station and a 40-story office & residential tower. The curved lower 22-levels will house office space and the upper 17-levels will be condominium homes. From the latest renderings, the design reminds me a little of Smith Tower with a skinny tower atop of a wider base.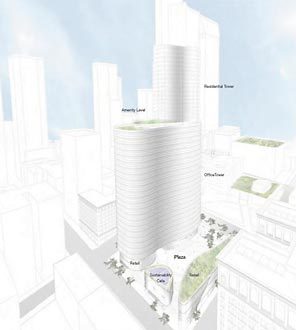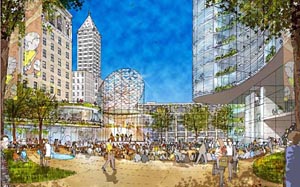 Civic Square Plaza
The project is aiming for LEED Platinum certification and will incorporate sustainable features such as using a concrete subterranean garage as a big heat sink that could serve as a radiator for the entire building, photovoltaics cells, graywater filtration and harvesting rainwater for irrigation and to generate electricity via microturbines.
Civic Square is being developed by Triad Development and designed by London-based architect Foster + Partners and Seattle-based GGLO.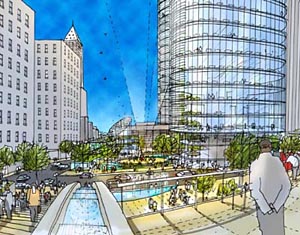 View of Civic Square from City Hall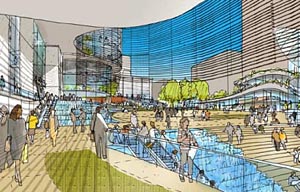 Metro/Light Rail station entrance
Civic Square, as its name implies, sees itself as a gathering spot for the city's denizens. From the developer's website:
It is a place for all and a true civic destination with shopping, services and trails but has a civic nature that pulls the threads of the surrounding blocks toward its center. This is where art installations, evening concerts, ethnic markets and public dialogue can all take place.
The concept will go a long way towards making this part of the city more citizen friendly and will likely pull residents from the newer residential towers that are close by (Madison Tower, 5th & Madison, and possibly Smith Tower). Currently, there aren't many amenities for residents in this part of downtown. It's also been suggested, at least studied, that the King County Administration Building, a block south, might also be redeveloped into condominiums.
The $350 million project is expected to begin in 2009 with a planned 2011 completion date.
Triad also developed Trio, NoMa, dwellRoosevelt and the Regata by Gas Works Park. Triad faced construction and marketing issues with Trio and NoMa; hopefully, they'll resolve those deficiencies before moving on to Civic Square.
Related: Seattle Times 12/12/07
Images Courtesy of Foster + Partners, Triad Development