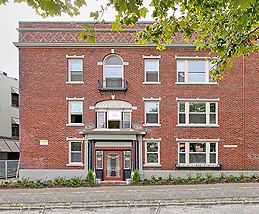 The Novell Condominium (website) will be holding its grand opening this weekend at 901 NE 43rd St. from noon to 5 pm. The building is located in a residential area just off Roosevelt.
Novell features 36 studio and one-bedroom condominium homes that range in size from 332 square feet for studios to 670 square feet for the one-bedrooms. Prices are affordable ranging from $179,950 to $259,950.
The homes feature original hardwood flooring & molding, granite countertops, subway tile backsplash, shaker style cabinets, stainless steel appliances, on-site laundry, a Flex-car and leashed parking options and more.
And, rather uncommon for conversions, former tenants have purchased a number of the available units, which speaks well for the building and developer.
The building was originally constructed in 1926 as the Eloraine and was most recently known as the Carter Hall Apartments.