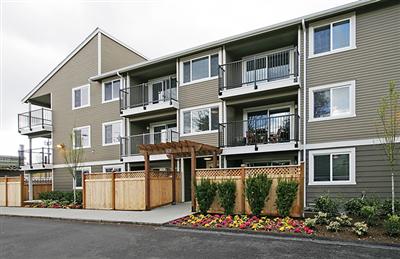 The 939 Oaktree condominium (939 N. 101st Street) is a recent conversion in the North Greenwood area by the Northlake Group who also completed a number of conversion properties in the Ballard area. Of 939 Oaktree's 15 units, only four remain – 1 two-bedroom and 3 one-bedrooms.
The two-bedroom is 946 sq ft and available at $284,950. The one-bedrooms range in size from 677 to 764 sq ft and are priced from $239,950 to $284,950. The homes were nicely remodeled and much better than I had anticipated at this price level.
Home features include cherry cabinets, granite tile countertops, stainless appliances, washer/dryer, parking and balconies or private patio spaces. The building is quiet and solid, though homes on the East side may be susceptible to traffic noise from nearby Aurora Ave. Incentives include a $2,500 buyer bonus and paid dues through the end of the year.