Escala
Escala broke ground this morning. I didn't stick around for the ground breaking but I did tour the recently completed 2,600 sq ft penthouse model unit; it's impressive.
8th and Pine
300+ unit condominium, completion expected for 2009.
Seneca Towers
A 7- and 24-story tower project with 210 residences ranging from 450 to 1,600 square feet. Ground breaking is slated for mid-2007, developed by Levin Menzies. Located at 8th and Seneca overlooking Freeway Park.
CarrAmerica
Located in the South Lake Union District, CarrAmerica is a 5-building mixed-use office, retail & residential development. No dates yet.
Images:
8th & Pine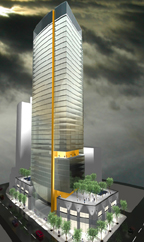 Seneca Towers