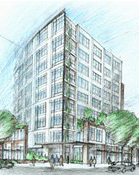 Landes is the newest community planned for First Hill at 8th and Marion. Landes is named after Seattle's first & only woman mayor, Bertha Knight Landes, who was elected in 1926. Construction is expected to start around Spring 2007.
Update: The developer is contemplating developing the project as apartments rather than condos, though the building will be constructed to condo-grade. A decision will be forthcoming this summer.
Update 2: It now appears Landes will be developed as apartments.