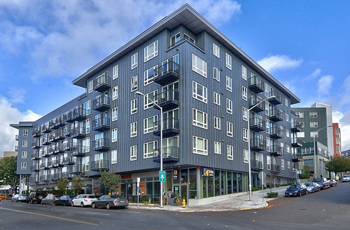 The Trio Condominium is a low-rise 6-story building featuring 116 studio, one- and two-bedroom units.
The interiors features:
Bamboo or Cork Flooring
Premium Carpeting in Bedrooms
Glass Tile in Bathrooms
Innovative Lighting
Metal Accents
Dramatic Sliding Glass Walls
Its location makes it convenient to the Seattle Center, the Olympic Sculpture Park and to many restaurants and nightlife activities. However, it is on a busy intersection of Denny Way, Western Avenue and Queen Anne Avenue which may distract buyers. Additionally, because it's a low-rise, some views are blocked by surrounding buildings.
The units are beautifully finished and are good sized in-city homes, but in some ways, for the prices they are askings, it's a hard sell considering location and lack of views, especially when being just blocks from the waterfront.