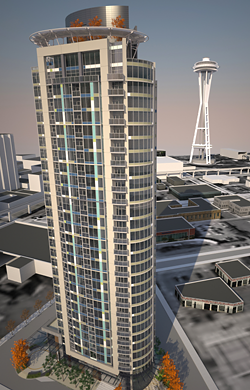 San Francisco developer Laconia Development, formerly Levin Menzies and Associates, is proposing to build a sleek, 32-story glass condominium tower at Sixth Avenue and Wall Street in the Midtown / Belltown area of Seattle. The site is currently a parking lot across the street from Greg's Japanese Auto on Denny Way. The project will include 283 residences on the top 32 floors with retail and parking on the first 5 levels. Project is still under city planning review.
The design for the project, possibly due to it's small footprint, is to be a tall skinny building. As a result, on average, units are expected to be smaller compared to the other new projects and per the developer, "affordable". Time will tell what affordable means.
On the main level facing Denny, the project will incorporate 1% for the Arts featuring public art works and fancy lighting. There will be 12 floors of parking; 6 above grade, 6 below grade. From the early rendering, it appears the building will face north with views of the Space Needle and Lake Union.
Construction is planned for Summer 2007 with occupany in 2009.