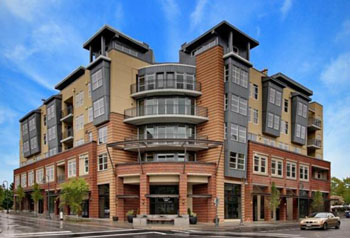 The 7800 Plaza Condominium (website) on Mercer Island is celebrating its completion and grand opening.
7800 Plaza is a concrete & steel boutique condominium featuring just 24 two-bedroom and three-bedroom homes, ranging from 1,300 square feet to over 2,000 square feet. These upscale homes are currently priced from $499,900 to $799,500.
Located in downtown Mercer Island at 7800 SE 27th, 7800 Plaza is conveniently located to numerous amenities with an 82 Walk Score. Its location also affords easy access to Seattle and the Eastside.